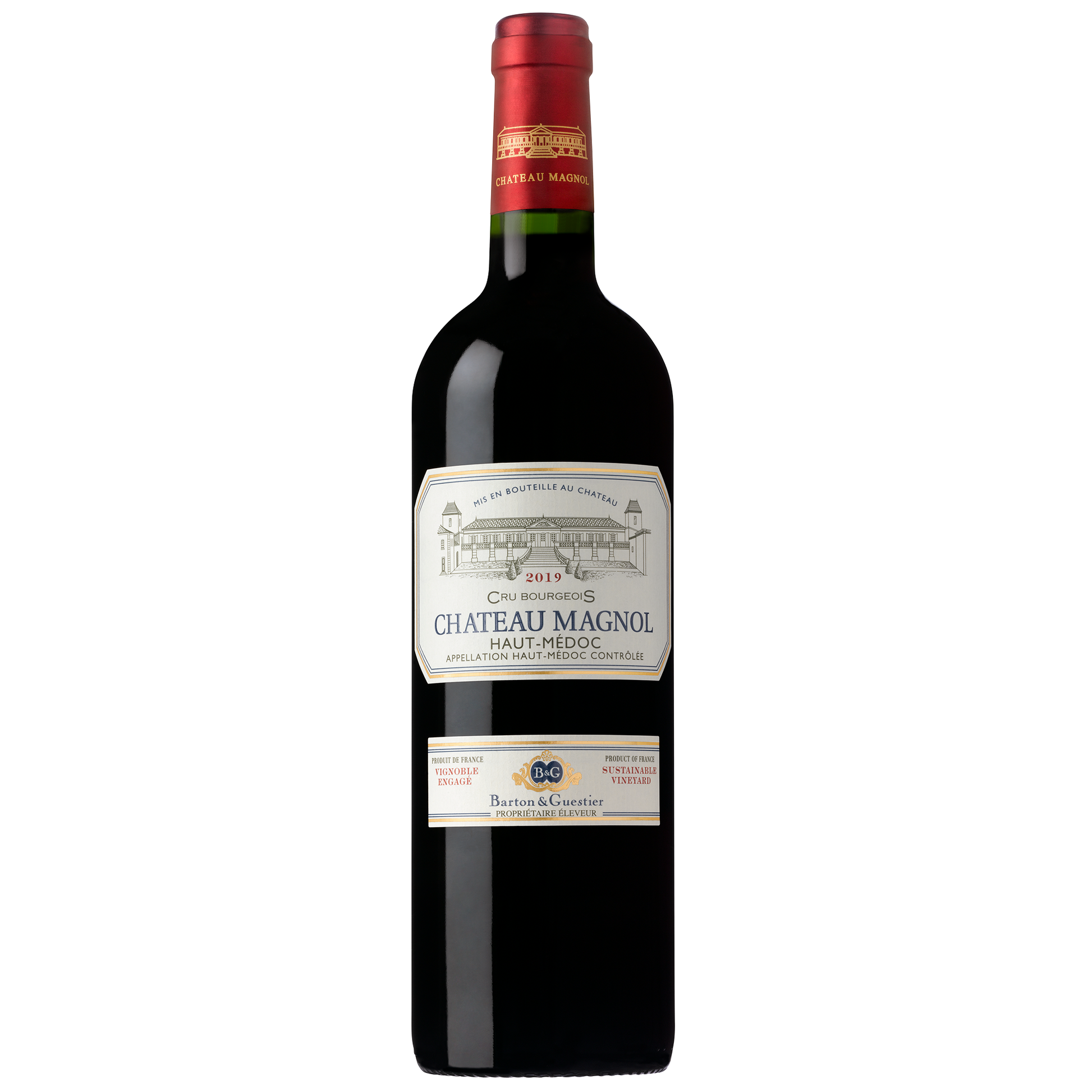 Château Magnol Haut-Médoc
Appellation: Haut-Médoc
Vintage: 2019
Red
Sale price
$35.00
Regular price
Product description
Wine Characteristics
Shipping & Returns
Product Reviews
Chateau Magnol, Crus Bourgeois, is a dry red wine from the Haut-Médoc region of France, made from a blend of four grape varieties: Merlot, Cabernet Sauvignon, Cabernet Franc, and Petit Verdot. This wine is harmonious, well-balanced, full, fine, and elegant, with ripe tannins that provide structure and depth.
Characteristics
Grape Varieties:
45% Merlot, 38% Cabernet Sauvignon, 14% Cabernet Franc, 3% Petit Verdot.
Appearance:
Deep and brilliant cherry red with violet highlights.
Nose:
Expressive, rich and complex nose mixing black berries (blackcurrant, black cherry) and well-balanced spicy and minty notes.
Palate:
Harmonious, well balanced full, fine and elegant with ripe tannins. The aftertaste is rich and aromatic (fruity, spicy with vanilla and liquorice notes).
Serving Temperature:
61F to 65F
Pairing:
Red meats, ripe cheeses. Try with Pyrenees cheese, black cherry jam and walnut bread.
Environmental Certification:
High Environmental Value certification, ISO 14001, Vegan Friendly
Awards
WE 92:
This ripe wine, from an estate close to Bordeaux city is dense and structured. Showing firm tannins and lush black-currant fruits that are well to the fore, this is a wine for aging.


I like the chocolate and blackberry character to this with some wet earth. The palate is medium-to full-bodied with firm tannins and a linear finish. Better than the 2018.:
JS 90-91
We ship to the following states: AZ, CA, CO, CT, DC, DE, FL, GA, ID, IL, IN, IA, KS, LA, ME, MD, MA, MN, MO, MT, NE, NV, NJ, NM, NY, NC, OH, OK, OR, PA, RI, TN, TX, VA, WA, WV, WI, WY.
Food Pairing
Duck à l'Orange